You've just gotten your first air fryer that everyone has been raving about, and now you just have to figure out how to work the appliance and what to use it on.
That will be the least of your worries when you learn that an air fryer can be used on pretty much everything.
No matter what type of culinary skills you have, an air fryer can cater to your every need. Here is a guide and several tips that will teach you everything you need to know about using your air fryer.
Why use an air fryer?
Many people have a love-hate relationship with fried foods.
While they wish they could erase the calories they receive from it, they also love the taste and crunch that comes with it. That is where the air fryer comes in.
The air fryer stands out from its competitors' appliances because it offers a  low-fat version of normally unhealthy foods such as fried chicken, french fries and onion rings.
As some healthy foods, tend to have a knock-off taste from the real deal, air fryers produce foods with a delicious taste and feel in your mouth.
The air fryer can be used in many ways to help make your hectic, daily life more manageable.
Whether you want to fry, bake, grill or roast ingredients, the air fryer can do it all.
It can cook without oil, prepare multiple dishes at once and its parts can be easily removed for cleaning.
Buyers love the air fryer's variety of cooking options that enable them to prepare any type of meal at any time of the day.
How to use an air fryer
Accompanied with a step by step guide to help you perfect your food, the fryer is easy to use and assemble.
The basket fits perfectly into the pan, which then can fit into the appliance itself.
The hot-air circulation and timer make cooking with the fryer easy for amateur and pro cookers.
Once you decide what you want to prepare, you put your ingredients in the basket and set your timer.
Then the hot air goes to work, and you will eventually hear a ding from the ready sound indicator that your food is done.
Can't decide on what to cook? Air fryers come with a recipe pamphlet that gives you dozens of ideas on what to prepare with your fryer.
With simple instructions and a recipe guide, your first time using a fryer should be simple and go smoothly. When having difficulty deciding on what to make with your air fryer, think of your everyday meals that you make with other appliances.
The air fryer can serve as a substitution for your deep fryer, stovetop and oven. Air fryers are mainly used for:
Frying

Roasting

Grilling

Baking
The handy parts that make up the air fryer is what allows it to fry, roast, bake and grill; all in one appliance. For example, a double grill layer, rack, basket and separators are provided with the fryer.
This makes it easy for you to switch out the grill and insert baking pans or remove the rack to fry ingredients in the basket.
Ways to use an air fryer
As the reviews you may have read indicated, there are tons of ways to use an air fryer. Many air fryer foods can be cooked in various ways. Here are some ideas of foods that can be cooked inmultiple ways with an air fryer:
Once you get accustomed to your fryer, you can also try using air fryer dehydrators and advanced baking with the air fryer baking pans.
The best part about grilling with your air fryer is that you do not have to continuously flip your ingredients over for equal heating.
All you have to do is

 

shake the pan half way 

through the times heating session.
The hot-air flows around the inside of the appliance, heating up all sides of your food.
Most air fryers come with either a grill layer or a grill pan that has a handle. This makes it easy for you to insert and remove food from the fryer.
The surface of the grill can quickly soak up any excess fat that drips from ingredients, leaving you with healthy, grilled to perfection meals.
Baking in a fryer? That's something you don't hear every day.
With most air fryers, you can use the provided baking pan to make goodies such as muffins, brownies, cupcakes and bread.
Whether you want to make a homemade good or bake pre-heated foods, the air fryer will allow you to do it all. Baking with an air fryer usually takes anywhere from 15 minutes and up to 30 minutes.
Too busy to make dinner for your date? Don't worry. With your air fryer, you can roast your meats and veggies for the perfect romantic dinner.
Not only will the fryer produce quality roasted food, but it will also roast your food 20 percent faster than your oven.
Imagine that... An air fryer that fries!
Of course, you can always fry foods in an air fryer. This appliance will give your food the same crisp and mouthwatering taste that an oil fryer would.
However, the biggest factor that differentiates an air fryer from other fryers, is that its fried food can be up to 80 percent less fattening than food cooked in other fryers.
No oil needed with an air fryer
No oil is needed when making foods with your air fryer.
Even though many people take advantage of using no oil with an air fryer, you can still use it with the fryer. However, you have to mix oil with your ingredients before putting them in the fryer.
Oil cannot be put inside the fryer pan.
Adding cooking oil before air-frying will add an extra crunchy layer to your food.
Most oils can be used with an air fryer. Some common oils are canola, sunflower, olive and peanut oil.
What foods can I use in an air fryer
The million dollar question many people ask before purchasing an air fryer is: What kind of foods are for an air fryer?
This question is not surprising because before someone spends their hard earned money on a product, they want to make sure it is useful for them. Luckily, the air fryer can pretty much prepare any food that would normally be cooked in 40 minutes or less on a stovetop, oven or deep fryer.
What kinds of foods is an air fryer suited for?
An air fryer is suited for foods that can be fried, grilled, roasted and baked.
Any foods that require bread crumb or light flour coating, generally for frying, can be used in an air fryer. Even some veggies can be used with an air fryer.
Although both have very different cooking instructions with an air fryer,home-prepared meals and frozen foods can too be prepared in an air fryer.
What kinds of foods are air fryers not suited for?
Foods that should avoid being prepared in an air fryer are veggies that can be cooked and steamed such as carrots and beans. Also, ingredients that will be fried with a batter, should be refrained from frying in an air fryer.
What variety of foods can you make with an air fryer?
From chicken to seafood, to corn on the cob and muffins; there are many foods that can be prepared with an air fryer. Below is a list of some of the foods that can be cooked in an air fryer:
Most common ingredient used in air fryers is: Potatoes!
Whether you would like french fries or roasted or grilled potatoes, potatoes are very popular with an air fryer.
You can even make pre-heated frozen fries and potatoes in your fryer. Although frozen foods may take longer to cook in an air fryer, it will not affect the final result of your dish, leaving you with a crispy exterior and soft interior.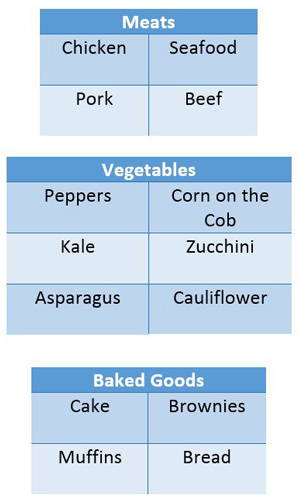 With an air fryer, you can prepare multiple ingredients at the same time. The separator that some of them come with the appliance will enable you to divide the ingredients in the basket or pan and cook both foods at the same time.
However, before cooking multiple foods, you must ensure that both foods will require the same temperature heating so they can both cook evenly.
For example, preparing grilled potatoes and shrimp would have different temperature settings because shrimp would not need as high a temperature setting as potatoes.
It can be a lot to bare at once, but you should now have an idea of where to start when using your air fryer.
Whether you're in the mood for chicken fingers and french fries or chocolate cupcakes, your air fryer can help your hunger needs.
Your air fryer should serve as an appliance that you can use when you are short on time or when you want to cut back on calories. With this guide and your included recipe booklet, you should be on your way to creating scrumptious meals.
2 comments