Beer Froster: The Best Beverage Fridge for Your Brews
We've all thrown beer in the freezer 20 minutes before our party was about to start. And on the flipside, we've all hesitated when handed a warm bottle of beer upon our arrival to an event.
"You know what? I'll take you up on that cold glass of chardonnay after all."
No matter how big or small the bash, a prepared host knows it's important to have beverages ready to enjoy by the time guests start rolling through the door. The first question out of any host's mouth, after all, is:
"what would you like to drink?"
But any seasoned host also knows prep can be hectic. Planning the perfect party, while also accounting for every dietary restriction and every "drink of choice", is a lot to handle.
At least it used to be. Enter Beer Frosters: the best beverage fridges for your brews.
How Does A Beer Froster Work?
Whether you want to host the perfect party or improve your post-work ritual, a Beer Froster will help you cross "chill beer" off your task list.
A Beer Froster cools your beer to a frosty 23ﹾF, making it the coldest fridge on the market. This chilly temperature freezes the water condensation on your beer bottles and cans, creating the frosty finish, you've come to love while drinking a brewski.
A Beer Froster works hard, but parties harder. It comes with two high-power cooling modes to protect you against party fouls (like serving room temperature beer).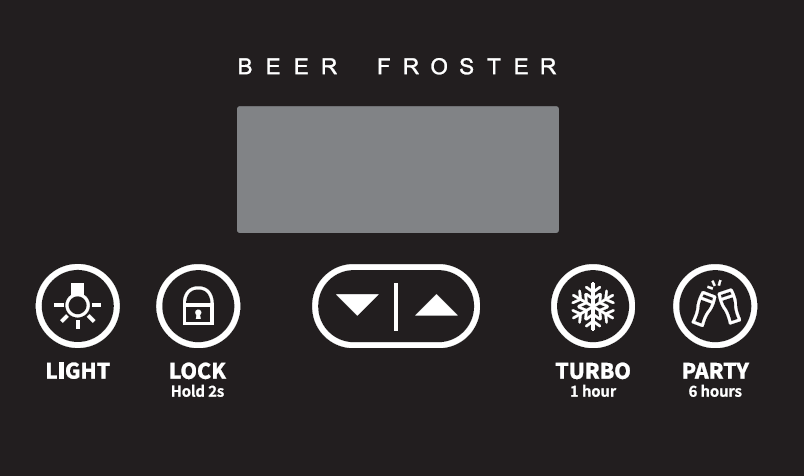 Did you forget to throw your beer into a tub of melting ice before guest arrived? Do you need frosty beer in an hour, tops? Turbo Mode keeps the Beer Froster compressor on for an hour straight to give you frosty beer fast. It will get your brews party ready better and faster than any bag of ice or freezer ever could.
Do guests keep opening the fridge door and letting all the cool air out? Do you struggle to keep drinks cold all party long? Party Mode keeps the Beer Froster compressor on for 6 hours straight. No matter how many times that fridge door swings open, your beer will stay frosty. Finally, a fridge that can keep up.
Take Happy Hour Home with You
If you like to unwind after a long day with a Pale Ale over a Pinot Noir, then you need the right fridge to make sure your beer tastes its best. What's more relaxing than a chilled, refreshing beverage at the end of a stressful day? Plus, you can still frost beer mugs with the Beer Froster to give your favorite canned beer a cup upgrade. Beer Frosters bring happy hour to your home—cheers to that!
0 comments