How Much Ice Does a Good Party Host Need From an Ice Maker?
Is there anything worse than getting low on ice at a backyard barbeque or pool party in the summer? Probably not, and it gets even worse if you are the one hosting it. Beers, cocktails, soft drinks, water, and the like will consume large amounts of ice fairly quickly. For a typical barbeque or pool party, you need at least 40 pounds of ice for 20 people. This will make sure you have an ample amount of ice to last the proceedings.
So how do you make sure you don't run out of ice and bring a premature end to a party? Well, you can either buy ice in bulk, or you can buy ice makers that can help you produce ice from the comfort of your home.
Why Do You Need So Much Ice?
40 pounds of ice just doesn't sound like a lot, it is a lot! Whenever a party is in the planning process, one of the major discussing points is the amount of ice needed, especially when it's the summertime. During the summer, you should expect at least half of your ice to melt just like that without any use. Hence, you need to have enough ice in storage to make sure your party doesn't run out of it.
The amount of ice you will need for a party will vary from location to location. In hot and humid regions, you will definitely need more ice than in cool or warm regions. Additionally, the type of party that you are hosting will also affect the amount of ice you should be buying. For example:
If you are hosting a pool party with 20 guests, you will need at least 40 to 50 pounds of ice.
If you are hosting a barbeque party with 20 guests, you will need at least 30 to 40 pounds of ice.
If you are hosting an indoor or a house party with 20 guests, you will need at least 50 to 60 pounds of ice.
Why that much ice for an indoor party? Well, indoor parties have the tendency to be a little wilder than barbeque and pool parties. Indoor parties will also have fancy drinks that need crushed ice and other types of frozen delights. And since the party is indoors, the guests will feel more comfortable in letting themselves go compared to barbeque or pool parties.
Now that you know why you need such amounts of ice for a party, it's time you decide whether you want to buy ice from the market or buy an ice maker.
Before you think about buying ice, you must first realize the cost of ice that is required for your party.
Typically, you will need 2 pounds of ice minimum for each guest. This will ensure that you have enough ice that can last a party. Now the price of ice per weight will differ from city to city and the time of the year.
Generally, ice becomes expensive during the summer in many parts of the world. You may get a 10 pound icepack from $2 to $5, depending on the season and where you're buying from. Now if you host parties regularly, you cannot afford buying a $5 or even $4 icepack every time. In this case, it is advisable to go for an ice maker to reduce your long term costs.
But if you are hosting parties occasionally, then you must consider buying ice. Depending on the number of guests and type of party that you are hosting, buy ice accordingly. If you are hosting more than one party in close proximity, then consider buying ice in bulk to reduce your costs.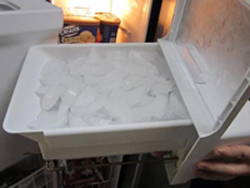 Of course, if you are considering making ice by yourself, you can always buy an ice maker. Average ice makers that come with the refrigerator make around four pounds per day.
So if your need is 40 pounds of ice, you will need to work on it around 10 days before the party, assuming you won't need ice for other things. And depending on what type of ice you need, you may even need more time to get it all done before you host the party.
Refrigerator ice makers are impractical in party use because they are time and effort consuming. However, there are other ice makers that are more efficient for parties and frequent entertainment. Here are some of the benefits of having an ice maker for your activities and events:
Fast - Ice makers can make water into ice pretty quickly. The average operating workflow of an ice maker can range from 12 to 20 minutes. In other words, you can get your ice ready within 20 minutes.
Quantity Production - Ice makers, on average, can produce from 20 pounds to 60 pounds of ice on a daily basis. High end ice makers can even produce up to 300 pounds of ice daily. With an ice maker, you won't be running out of ice for a long time.
Reliable and Smart - Modern ice makers are known for their reliability and smart features. They can last a lifetime, provided that you follow up with regular maintenance and service. Ice makers today have smart features like timers, cooled air condensers, and even automatic on/off features. For example, if the ice production is complete in one cycle, then the ice maker will turn off automatically. This will save you from considerable energy bills down the road.
Cost Effective - Other than savings on energy bills, ice makers can be a viable option in the long term. If you regularly host parties and social activities, then you know how important it is to be stacked with ice. Though you will be paying a substantial amount for an ice maker, in the long run, it will reduce the per pound cost of ice that is available from the market. In other words, you can save up to hundreds of dollars every year that would otherwise be spent on just ice!
There are three different types of ice makers in general. Based on the number of guests, the ice required, and the speed at which the ice is made, you can choose from any of these types:
Benefits of portable ice makers:
Lightweight and small in size
Ideal for parties and social events
Can fit in any counter space
Can produce enough ice to make your party a success.
Modern portable ice makers are equipped with LCD panels, convenient drains, and timers to help you know when your ice will be ready. Their self cleaning mechanism makes them the ideal option for any social event that you are hosting.
On average, portable ice makers today can make around 20 to 50 pounds of ice daily. In other words, if you are hosting a pool party for 20 guests including you by tomorrow, then you can get the ice ready by today. However, if you are hosting a party with a large guest attendance, then a portable ice maker may not be able to meet the ice needs for the occasion.
You can buy a portable ice maker for somewhere around $150 to $300, depending on the level of ice it produces and other features. They have an operating cycle of around 6 to 20 minutes, which makes them ideal for situations where you need ice supply quickly. To sum it up, portable ice makers are ideal for outdoor parties by the pool or a barbeque, or activities where you need to move around a lot.
Built-in ice makers can fit under the cabinets or countertops to make efficient use of space. They are considered the best options for house parties, especially when you have a home bar. They can also be installed in boats or recreational vehicles. They are generally small in size but can produce enough amount of ice to keep a party going.
Built-in ice makers:
Help free up space
Are ideal for indoor use
Can help host up to 50 people
A built-in ice maker can be installed anywhere to give you more room. For example, you can install them under the bar to make more room for drinks. They provide plenty of options and are very convenient and easy to use.
Built-in ice makers can produce from 12 pounds up to 260 pounds of ice daily, depending on the size and price of the model. Small built-in ice makers will cost you around $200 to $600 with varying features and options. Large built-in ice makers, on the other hand, can cost around $1000 to $2500 with varying ice production, storage, and other features and options.
Built-in ice makers are ideal for average sized to large sized parties. However, you will have to choose a model accordingly. For example, if you are hosting frequent parties with 30 to 50 guests on average, then you will need a large built-in ice maker.
But if you host occasional parties with fewer guests, you can always go for a small built-in ice maker. To sum it up, built-in ice makers are ideal for indoor entertainment and traveling, whether you install them in your home, in your RV, or in a boat.
As the name goes, outdoor ice makers are used for outdoor activities like backyard barbeques, pool parties, and other social activities. They can complement any outdoor activity, especially a bar with perfection. Outdoor ice makers will make you stay outdoors as you won't be running short on ice.
Outdoor ice makers have more features than any other type of ice makers. They generally feature:
Enclosed backs to provide protection against rain
Auto overfill protection that turns off when the ice is made
Removable bins, air cooled condensers, reversible doors
Safety features for outdoor use
Outdoor ice makers can produce around 12 pounds to 50 pounds of ice daily. Typically, you can buy an outdoor ice maker from $300 to $1500, with varying production of ice and other options. If you frequently host outdoor parties, then you need a big outdoor ice maker. If you are hosting outdoor parties with few guests, then a small outdoor ice maker should be ideal. Depending on the frequency of your parties and the average guest attendance, you should buy an outdoor ice maker accordingly. But whatever outdoor ice maker model you choose to buy, it will cater to your ice needs efficiently.
What a Good Party Host Needs
Now that you know the different types of ice makers available, it's time to focus on other aspects related to ice that can make your party better than it already is. Crushed or flaked ice is another popular type of ice in parties. Flaked ice can be used for a variety of purposes, which includes:
Making the drinks cold faster
Mixing in cocktails and other special drinks
Making frozen desserts and delights
Flake ice makers are also available from leading ice makers. Flake ice makers can produce around 300 to 500 pounds of ice daily in flake ice shape while removing excess water. With that being said, they can be quite expensive, so expect to pay around $3600 to $4500 for an ideal flake ice maker. However, you can produce large amounts of flaked ice daily with a flake ice maker.
If you host parties regularly throughout the year, then a flake ice maker can cover all your ice supply and flake ice needs. But if a flake ice maker is not a viable option for you, then you can consider purchasing ice crushers. Ice crushers are units that can crush ice and can serve all the purposes that a flake ice maker offers and are fairly reasonable too.
Ice makers are a great accessory that can be used for a variety of purposes. Even when you're not hosting parties or social activities, you can use your ice maker for drinks, frozen delights, and much more. A good host is not someone who has the best drinks and the best music, but one who can make the party going from the beginning to the end.
0 comments