How much does it cost to build an outdoor kitchen?
Outdoor kitchens add more value to your life and home. Here's how much they cost.
If you've been looking for ways to add value to your starter home or simply been yearning for a larger space to host family gatherings, then you've probably thought about building an outdoor kitchen. There is a lot to consider, but the results are in: studies show outdoor kitchens are absolutely worth the investment. In this post, we will answer the 2 lingering questions keeping you from committing to your outdoor dream space:
How much does it cost to build an outdoor kitchen?

Key Features
Building on a Budget
DIY v.s. Hiring Help

Does an outdoor kitchen add value to my home?
Once you are done reading this post, you will have a good sense of how much your outdoor kitchen will cost, what you will need to build it, and why it is worth the investment.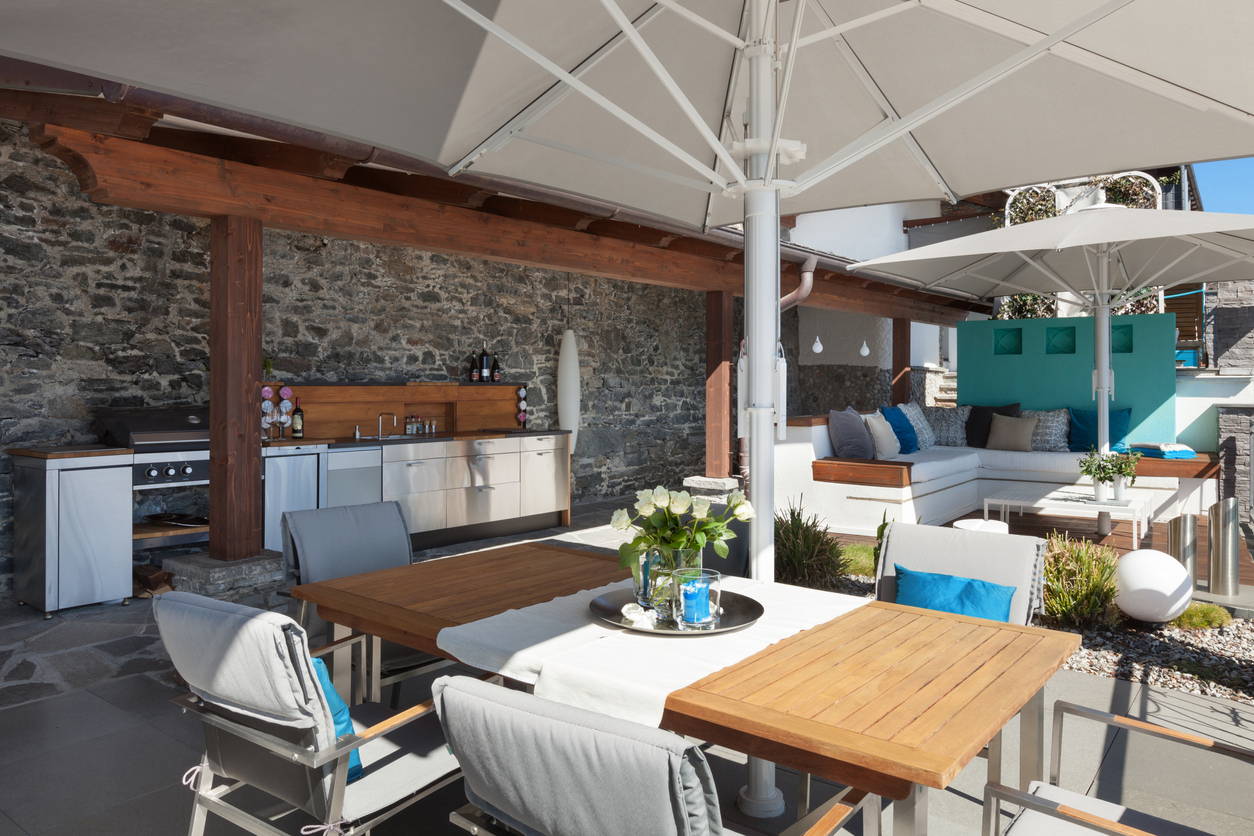 How much does it cost to build an outdoor kitchen?
As with any home investment, current budget plays a big role in determining what is realistic for your outdoor kitchen wants and needs.
So, what are the exact numbers you need to know? One study revealed most outdoor kitchens cost $13,000 on average with some high spending projects reaching upwards of $30,000. Another study reported a cost range of $4,000-$20,000. (That's about $300-$750 per linear square foot.)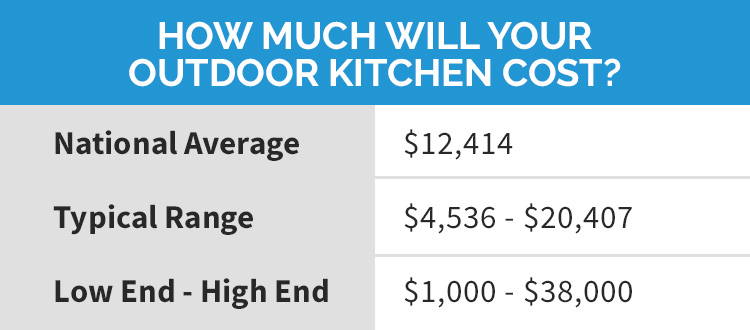 *Cost Data From 2019 HomeAdvisor Project Report
Fortunately, there is a lot within your control to help you stay at, or reach, the perfect price point for your place.
Key Features
Planning and design are two main ways to control cost. Before we dish out tips for both, here are the key components to consider for your outdoor kitchen:
Grill
Pizza Oven
Refrigerator
Sink
Cabinets
Countertop and food-prep surface
Lighting
Heaters
Comfort (TV, seating, fireplace, enclosures)
Infrastructure elements (electricity, water, drainage, and gas lines)
Take some time to determine what on this list you can't go without. Once you have figured out your basic needs, then you can start to do deeper research into different appliance types. Make sure to do a cost comparison for each element—you'll end up with a clearer sense of what your final price tag will be. Any wiggle room can go towards items on your "wish list".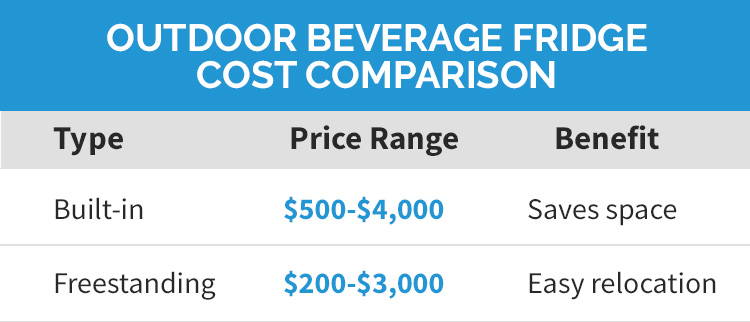 Building on a Budget
There are a few factors that have a bigger pull on pricing than others. Consider the following to make sure you are being budget conscious:
Location Place the outdoor kitchen as close to the indoor kitchen as possible. This will eliminate the need for a food-prepping station and help keep the overall design simple. For added saving points, try and build on an existing patio. You'll save at least $5 per square foot on potential flooring if you do.
Appliances Stick with the basics and consider freestanding appliances, like beverage fridges and grills. Freestanding units are usually more wallet-friendly and will help you save on installation costs. They also give you the flexibility to add to or move your entertaining space over time, making them a good long-term investment plan.
DIY or Hire Help?
How much contracting experience do you have? Even if the answer is none, simple projects like adding counterspace may be in your wheelhouse and can help you save 20% of the total project cost. It's worthwhile to take on any project yourself, no matter how small, to cut costs wherever you can.
That being said, there are certain projects that you should always leave up to the pros: plumbing, electricity and gas lines. Find a professional who knows your local building codes and who can file the correct building permit paperwork for you.
If budget allows, you can even turn to experts for recommendations on the most durable materials and appliances for exterior use. Our pro tip: make sure everything in your outdoor kitchen is outdoor rated and weatherproof.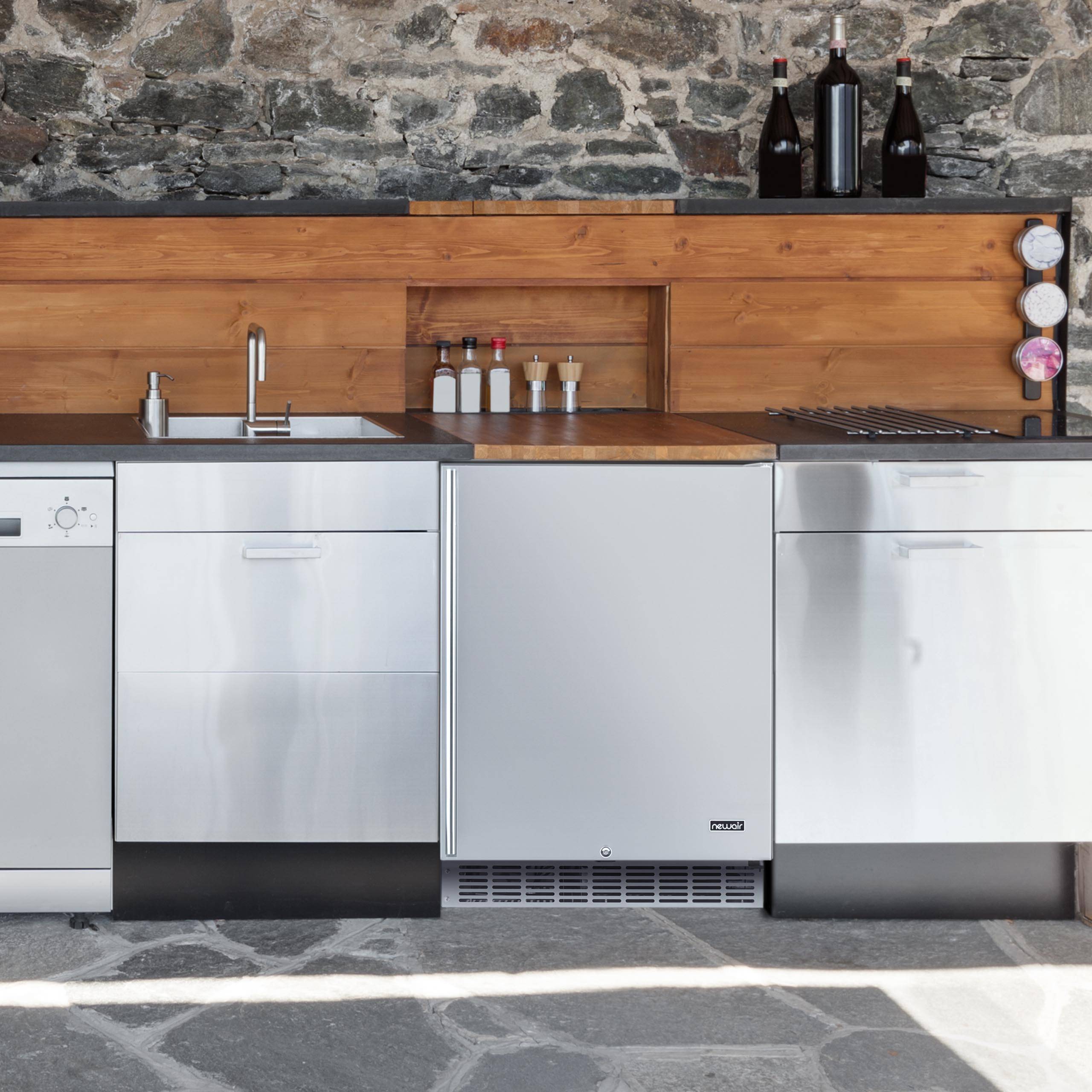 How does an outdoor kitchen add value to my home?
For the second year in a row, outdoor kitchens topped the home trends survey conducted by The American Institute of Architects. But outdoor cooking spaces are more than just trendy. A recent study by Zillow found that homes with outdoor kitchens sold higher than similar homes in the same area.
Pizza, wine, and millennial buyers seem to be paving—and paying—the way here. If additions to your starter home are the reason why you are here, consider pizza ovens and wine cellars as your premium features. The same Zillow study shows they attract premium buyers. If you simply want to up your entertaining game, still consider these options. Even if your high-end pizza parties are just earning you cool points for now, you never know when they will pay off in the distant future.
Trends Are A Buyers Best Friend
Buyers and brands, alike, benefit from a lasting trend. To meet market demands, brands are coming out with more outdoor options for your kitchen. This means you will have more choices, varying in style and price, to choose from. Now, more than ever, it is easier to build an outdoor kitchen with appliances and materials that match you space and take it easy on your wallet.
0 comments