Garage Fan Buying Guide: The Features You Definitely Need and Why
In a garage without air conditioning, things can heat up pretty quickly on a warm day. Add a little humidity in a place like Florida in the summer, and it can get downright stifling in your garage. Under these conditions, an oscillating pedestal fan or even a box fan won't be enough to get your garage to a comfortable level. If you feel a breeze at all, it may just be to blow hot air back on you as you work.
That's because residential fans are designed to be used in smaller spaces. A two- or three-car garage, on the other hand, can be anywhere between 450 and 1,200 square feet. To cool that type of space — especially if it's uninsulated — requires a much stronger fan.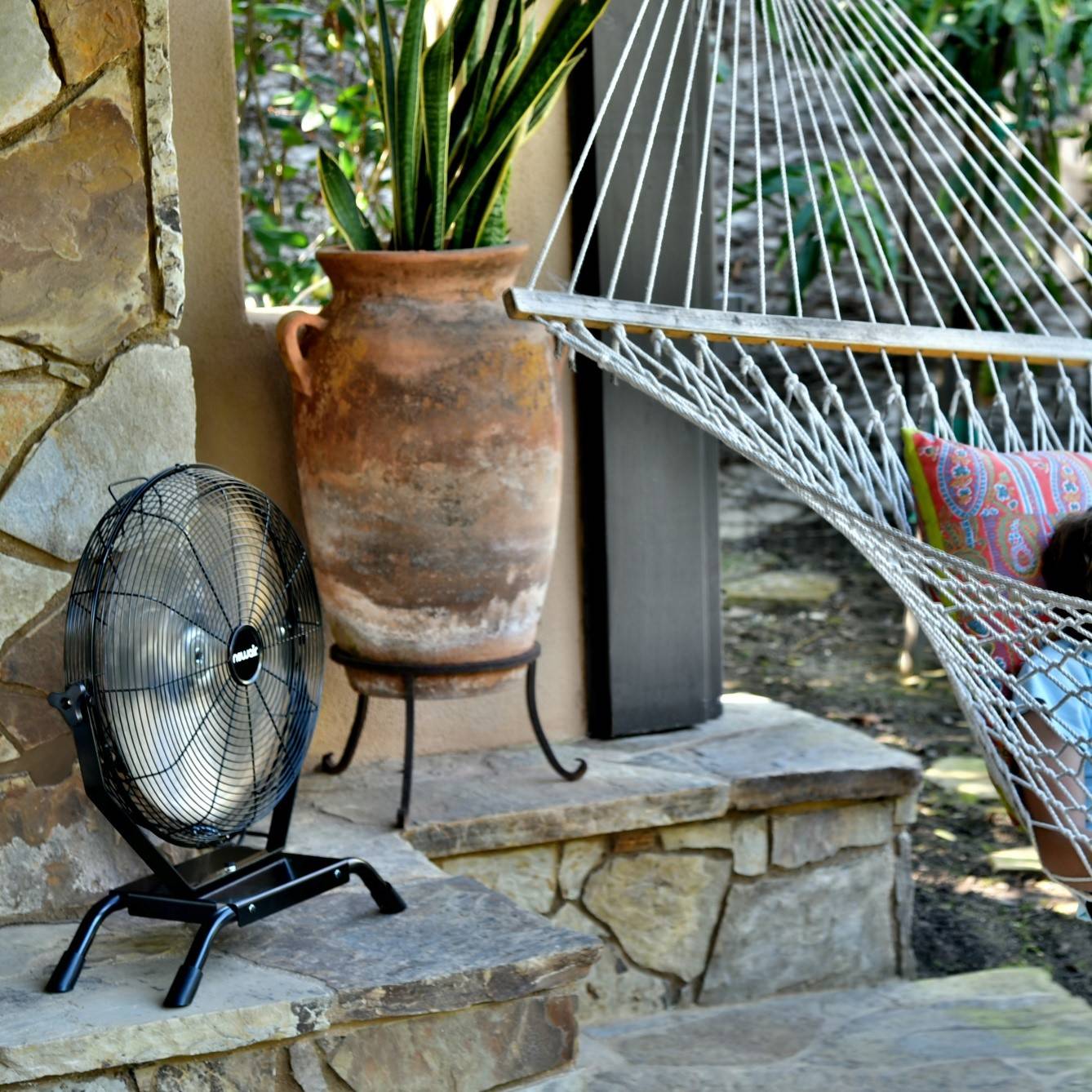 Fortunately, there are dedicated garage fans designed to cool a large area effectively. The best garage fans are high-velocity fans made of tough materials that can stand up to tough conditions in your garage.
What is a high-velocity ceiling fan?
High-velocity fans are industrial strength fans and typically come with strong metal blades and a ball bearing motor, making them more powerful and durable than a normal fan. The CFMs—airflow efficiency—of a high-velocity fan is usually much higher than a typical ceiling fan or desk fan. A high CFM means you'll experience strong waves of air circulation over a larger square footage.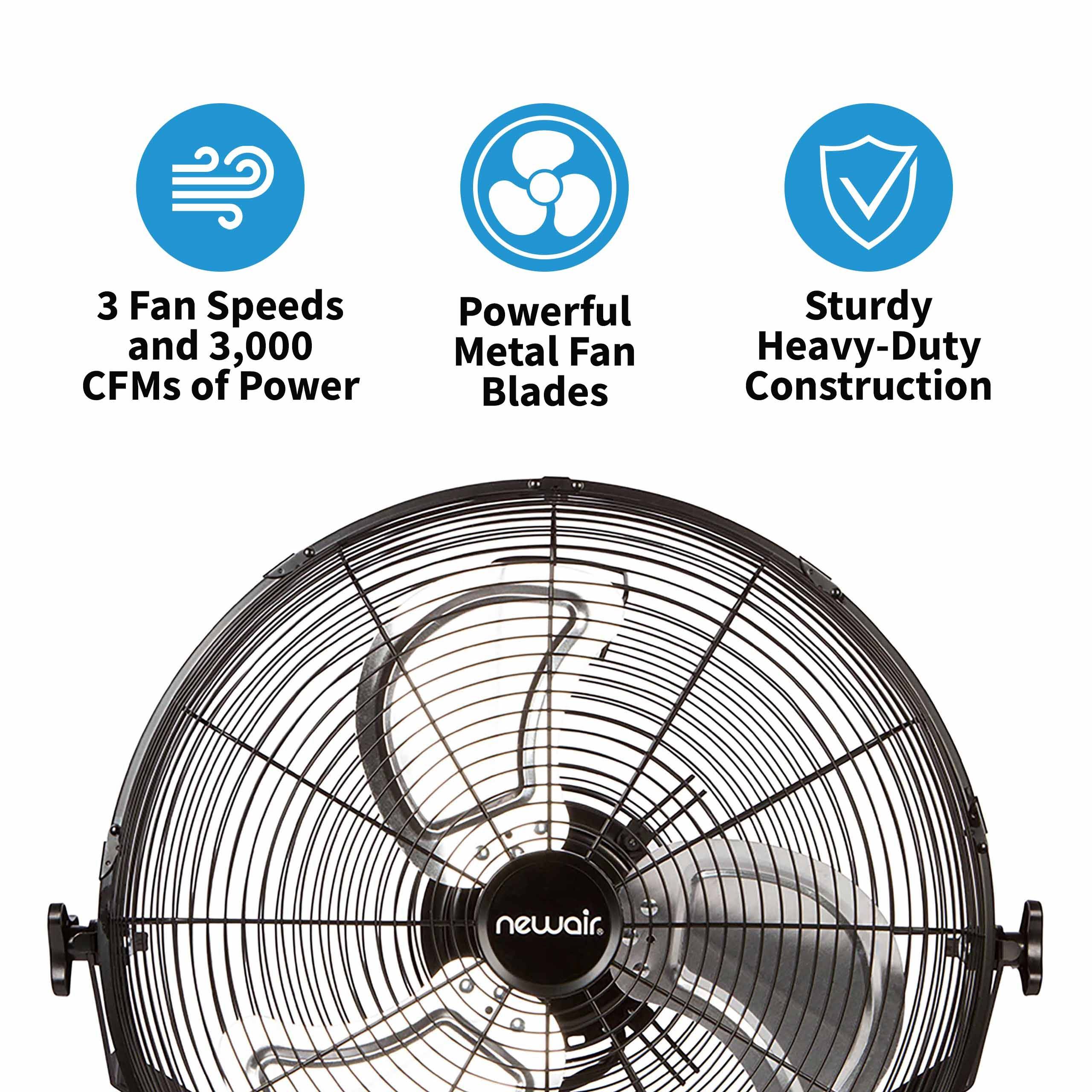 Browse High Velocity Fans
What is the best high velocity fan?
The best high velocity fan for you depends on where you plan on using it. If you plan on having it in your garage or workshop, the amount of available floor space you have will be a major determining factor when it comes to choosing your fan. Will it hang from the ceiling, so it is away from high traffic areas in your company warehouse? Or, will it move from room-to-room to give you powerful air circulation wherever you need it most?
There are three types of high velocity fans: wall-mounted, floor fan, or dual floor fan and wall-mounted. While the core features of each don't differ, how they function in your life does. Here is a review of a floor fan and a wall-mounted fan to help you determine which is right for you.
High velocity wall or ceiling mount garage fan
A wall mount fan is the perfect space-saving option for smaller garages and workshops. You'll never have to worry about it taking up valuable square footage, but you will have to find a spot to secure it on the wall — or perhaps the ceiling. This is easy if your outbuilding has exposed studs, but you should be able to locate framing members for installation with a stud finder if yours are covered over in drywall.
A long-lasting wall fan requires installation, so you'll want to make sure it has the following perks to make that easy:
A Sturdy Mounting Bar: Your fan should come with a solid mounting bar to use as you secure it to the studs in your garage. It should be designed specifically for your fan for a perfect fit and come with pre-drilled holes for easy installation.
Dual Use as a Ceiling Fan: The best ceiling fan for a garage is an industrial one, so check to see if your mounting bar works for ceiling purposes, too. This will give you even more choices for tight spaces.
Adjustable Tilt: Even though a wall fan is a more permanent installation, you'll still want to be able to control its direction to get the most out of it. Look for user-friendly knobs that can be tightened and loosened by hand instead of with tools for quick and easy fan adjustments.
High velocity floor fan for your garage
A floor fan is a great choice if you have plenty of floor space to spare — enough so that you're confident you won't trip over the fan or its cord as you work. A floor fan is also ideal if you spend a lot of time on the concrete beneath your car, as you'll be able to direct air flow where you'll most enjoy it on a hot afternoon. Floor fans also offer more flexibility because they are portable, so you'll be able to bring this fan to a job site if needed.
A high velocity floor fan should have the following components:
A Sturdy Stand:Look for metal instead of plastic for additional durability.
Non-Skid Feet: Rubberized feet will prevent scratches on your floor and keep the fan in place. This is especially important for dampening vibrations, so your fan stays put at the highest speeds.
Tilt Adjustment: You'll get the most use out of your fan if you can aim it right where you need it. Look for an infinite adjuster that you can move to your liking instead of a limited number of settings.
In general, a garage fan should be big, tough and create a whole lot of wind power. Specifically, these features should be your gold standard for any type of fan you plan to use in your garage.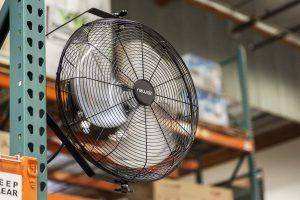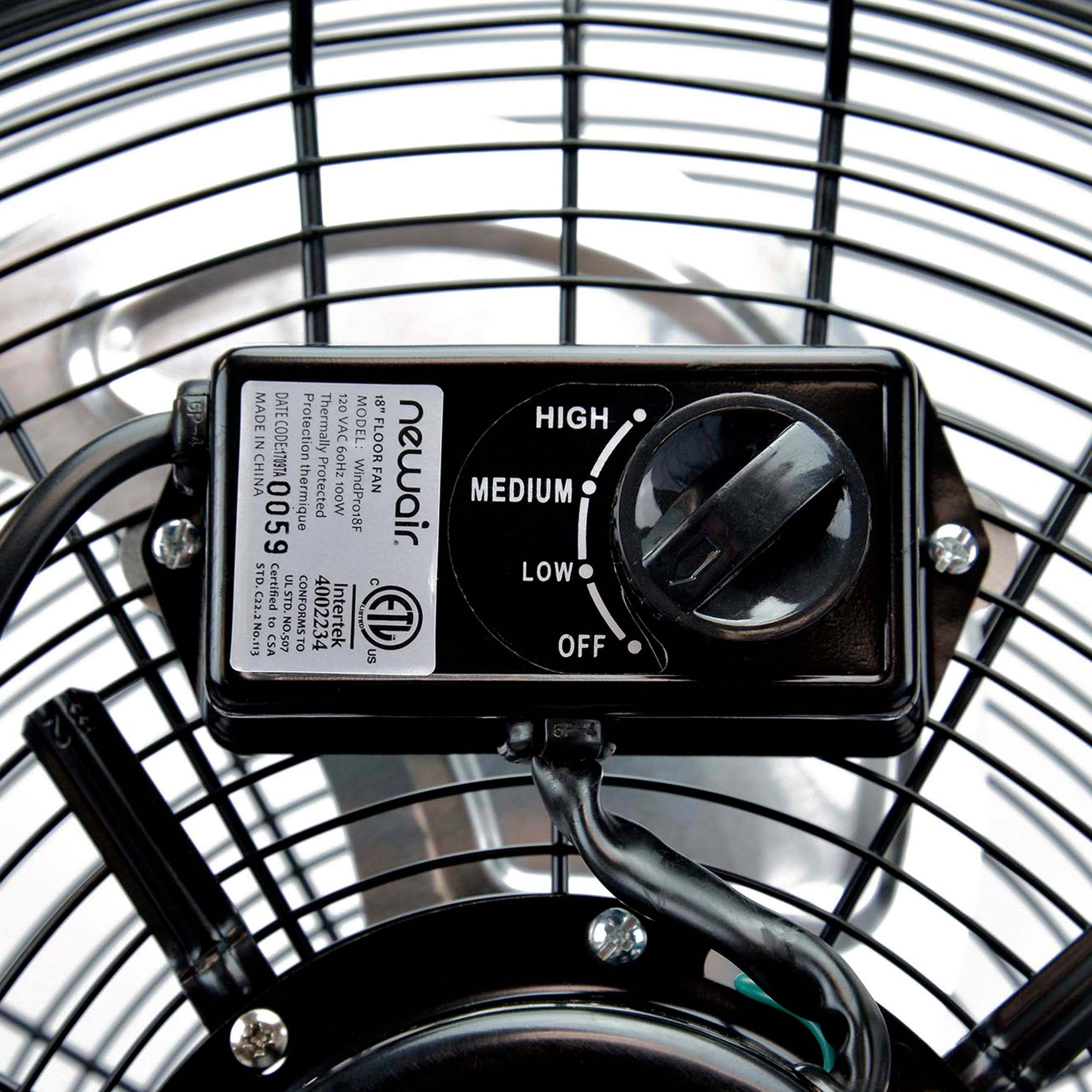 Power is important, but you'll also want some flexibility in controlling your fan speed. After all, if you plan to spend any time in your garage, there will be moments when you're directly in front of the fan, and 3,000 CFMs might be too much power for comfort when you're trying to work. Multiple speed settings will give you the control you want to fine-tune your climate control. Three fan speeds are ideal: low, medium and high settings offer enough variety to get what you need without cluttering the control panel with too many options.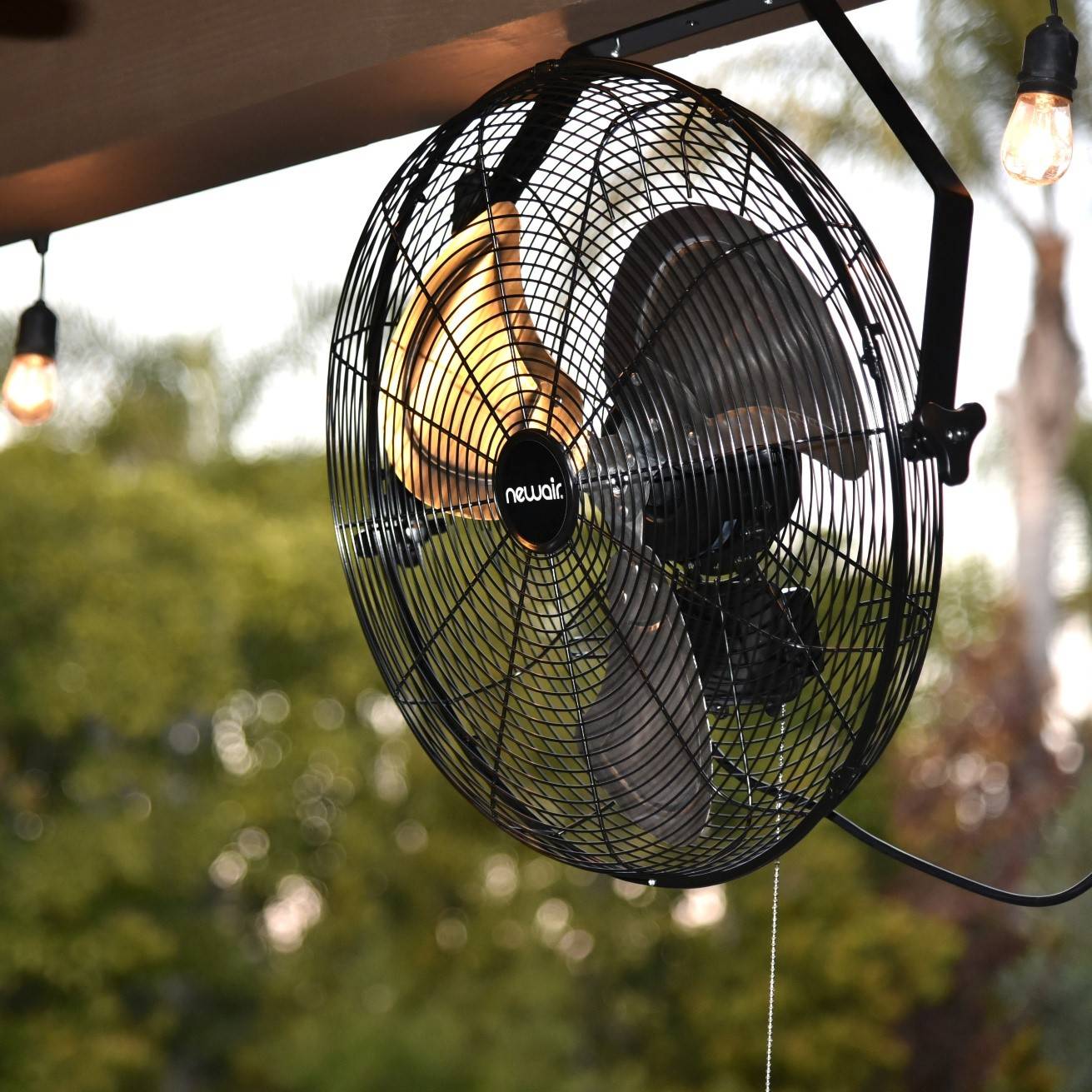 Plastic may work well for fans designed for indoor use, but they aren't sturdy enough for a fan designed to be used in more difficult conditions. Metal blades are easier to keep clean, and they stand up to the dents and dings that can often happen in your garage as your move heavy equipment or use workshop tools for your work and hobbies. Metal fan blades are often designed with greater efficiency in mind; their weight and shape are what help an industrial fan reach higher CFMs of output as they slice through the air.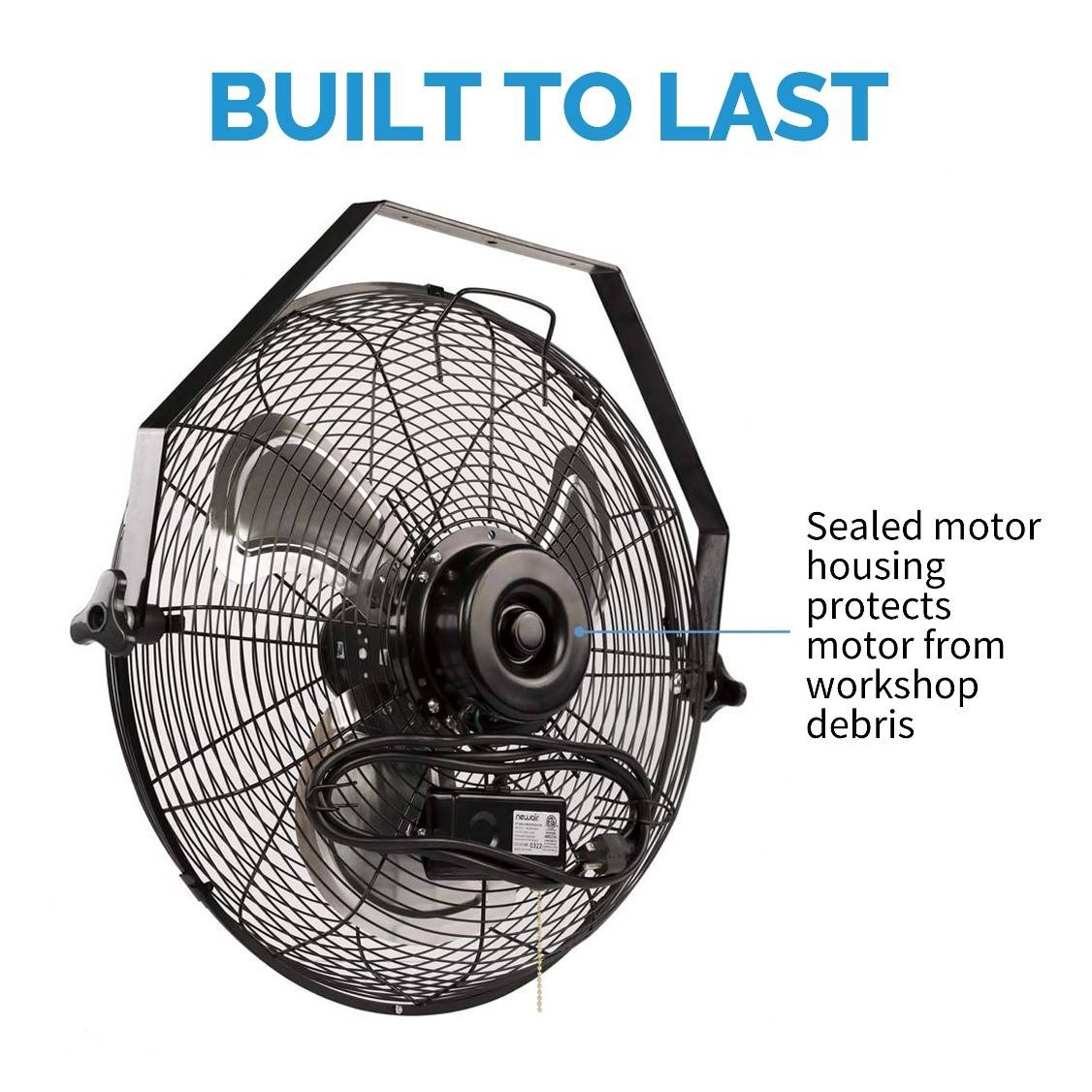 The motor is the lifeblood of your fan and what will keep it pushing out air for years to come. If the motor isn't up to the job, your fan will struggle, and it won't last as long as it should. There are two types of motors commonly used for fans: sleeve bearing and ball bearing types.
A sleeve bearing motor has a recirculating oil system to keep parts lubed up as the motor works. This is usually less expensive, but if you prefer to use your fan on low speeds or turn it on and off frequently, it's hard for the sleeve to stay lubricated. This type of use — which is very common in garage and workshop settings — will end up causing wear on the bearings of this type of motor, ultimately shortening its life.
A dual ball bearing motor, on the other hand, is designed to stay more evenly lubricated regardless of the operating speed. It also typically withstands a greater range of temperatures, which is perfect for a fan that you'll use in a hot garage, but which may also end up being stored in cold winter temperatures as well. A dual ball bearing motor is harder to find, but it's a much more durable choice for any high-velocity blower fan.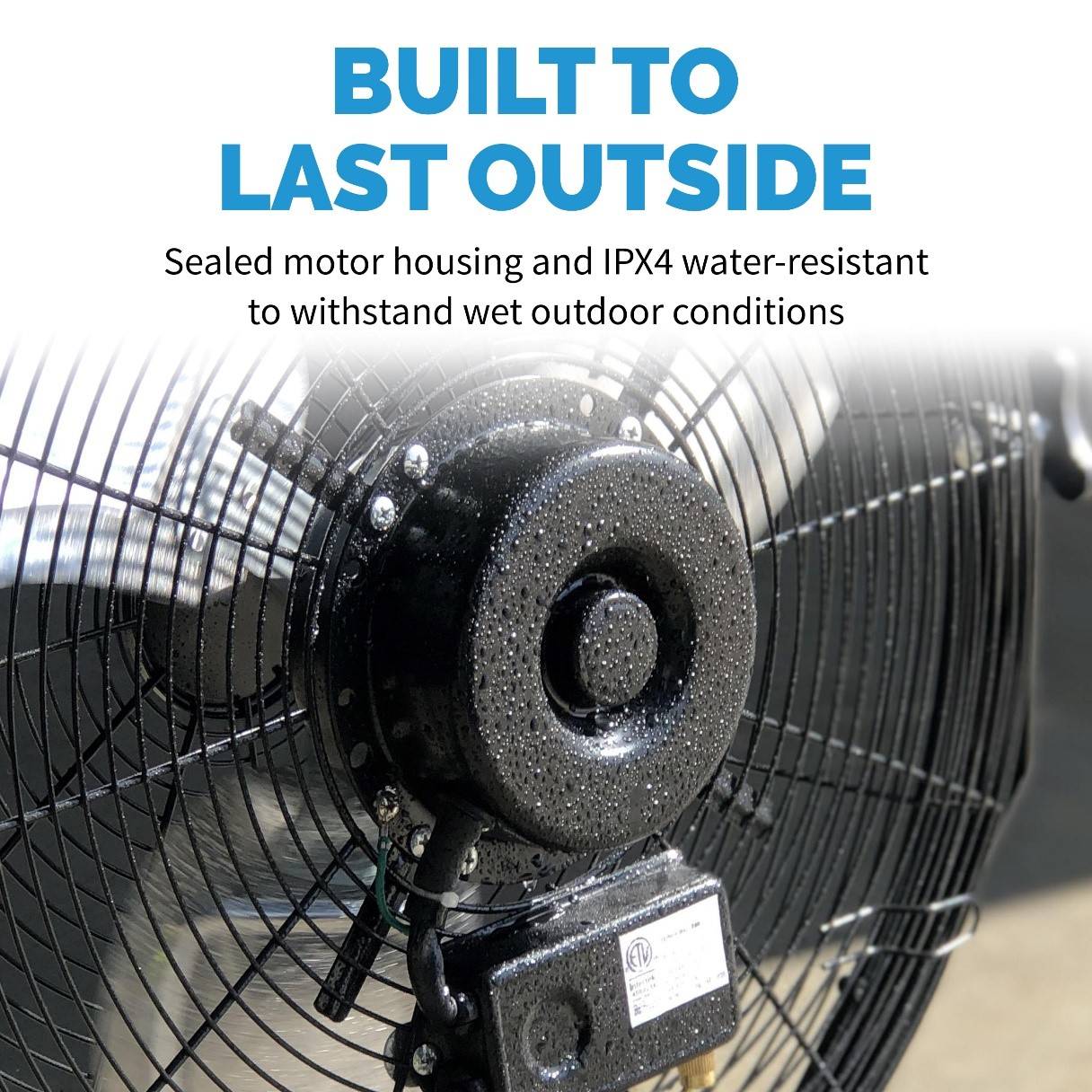 Another crucial way to ensure your fan's longevity is to choose one not just with a great motor, but also a motor that is well protected. A standard fan's motor housing — the cover that fits on the motor on the back of the fan — is perforated with many holes and openings. You've probably seen how fast this area gets dusty on a basic oscillating fan in your home: Dust bunnies cling to this spot as air is drawn toward the motor.
For your garage, this is especially bad news. While you may not be concerned about the aesthetics of your fan outside of your living space, there's also a lot more dirt in the average garage to worry about — especially if you work on cars or have woodworking tools out there creating sawdust and debris. In this situation, it's critical to choose a fan with a completely sealed motor housing to protect the motor from particles that can clog the works and cause the bearing to wear down. Look for a solid cover with no openings to keep out even the finest dust and extend the life of the motor.
Even in a garage with an air conditioner, you'll enjoy better air quality with increased circulation — especially if you need to rid your garage air of fumes from your work. An industrial-strength fan makes working in your garage safer and more pleasant, but you have to get the right machine to make it all come together. The best products for your garage are ones that are built for commercial rather than residential uses, so don't be shy about picking out a fan that looks like it belongs on a factory floor — it's just what you need.
The best garage fan has a high-powered, long-lasting motor that is sealed in its own housing, and features that make the fan most useful to you. These will include convenience settings and easy-to-mount hardware, but don't underestimate the importance of sturdy materials, too. Plated metal fan blades look great and will stand the test of time, making them a worthy investment for any garage application. Whether you decide to mount your fan on the wall or keep it on the floor, you'll be glad to spend more time working in your garage when you're able to keep it cool and comfortable.
0 comments