Benefits of a Water Dispenser
A water dispenser is something that you may have seen in offices, other people's homes or while out and about.
They are something that are

 

easy to purchase

 

on your own - if you wish to have one.
They

 

come in many types, so you can choose the best one for the purpose that you have for it.
They provide

 

clean drinking water

 

to the user easily, through a tab in the front.
You have a lot to think about regarding purchasing one, but did you know that there are also benefits that come with water dispensers?
Read on to find out the many benefits and how these benefits can influence your decision for the purchase you want to make.
The Many Benefits and Advantages
Portable

 

and

 

top or bottom-loading

 

(bottled) units that are not directly hooked to a plumbing line require no plumbing at all.
This means you're able to set the unit up, attach the water jug to the top and enjoy the benefits of having cleaner drinking water.
Many units, like

 

countertop water dispensers, are portable and easy to store.
If you do not want it out during certain times or need to move it to a new or more convenient place, storing and transport will be easy to do with the countertop designs that you can choose from.
This also allows you to bring it with you on trips.
If you're going to be going camping for some time and you have electricity available at your campsite, hooking up your water dispenser can ensure that you have both hot and cold water for all camping adventures. This also means that you have a safe, clean place to keep your water during the trip since, it is so portable.
Currently, there are many different types of water dispensers on the market, and you should be able to find one that suits your needs.
This includes point-of-use, or bottle-less dispensers that hook to the plumbing in your home:
You do not need to go through loop holes to install the dispenser.
You're able to simply place it where you want it in your home, office, or gym, and use it in the same day because of how easy installation is on the dispenser.
If you order one from a company, they generally will come out and do the installation for you. This makes bringing your dispenser home and getting the water you'd like much easier than you originally thought it was going to be.
Water coolers are a no-brainer. They only require you to know how to lift or push down the lever in order to enjoy the hot or cold water that you're after.
This means that anyone, even children are able to provide themselves with the cool drinking water that they want.
In addition to this, the hot water lever has a safety feature installed in many, if not all, dispensers so that children that use the dispenser do not get burnt.
This can be ideal to put in any home or office, without having to worry that visiting children may burn themselves with the unit.
You're also able to purchase a child safety lock for the cold side, if you're worried about the children running the water out of the tap.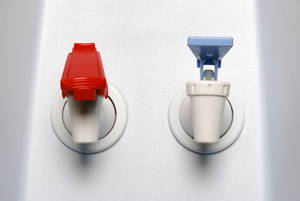 You just have to clean the unit once a month or so, while also upgrading the necessary parts.
This means minimal upkeep on your end to ensure that the unit is working correctly.
You will not have to spend all of your time fixing part after part.
Most of the units also come with warranties in case something was to happen shortly after you purchase the unit. They want to ensure that they cover the part.
Sometimes dispenser companies, or water providers ensure to cover any and all maintenance that the unit needs, while also providing the water jugs, set up and any additional pieces or parts that the unit may require.
It might be ideal to use a company like that if you're looking for a way to have a totally maintenance free way of drinking water without having to handle anything on your own.
The company is there to handle the entire unit for you - whenever you give them a call or make an appointment to have them come over.
Receive crisp, clean and fresh water that is free of chemicals that are normally found in tap water. This improves the taste and quality of the water that you will be drinking.
It also reduces the amount of contaminants that are found in normal tap water, which provides you with numerous health benefits since you're greatly reducing the amount of extras that you normally drink on an everyday basis.
Filters are also part of dispenser systems and provide you water with extra cleanliness.
It filters every drop that comes through. The filters are also all high quality to ensure that you get the best tasting and highest quality water while using the water dispenser.
The filter does not have to be replaced very often either. Once every three to four months is enough to ensure that the water running through the system continues to stay fresh and clear.
Another benefit of bottle-less dispensers in particular is savings.
Save money each and every month by not having to purchase individual water bottles, or bug water jugs that top or bottom loading coolers use.
Bottle-less coolers are also ideal for the environment since there are less water bottles going to waste in landfills each year.
This causes the world to have more pollution than ever before. Water bottles may be recyclable, and you can now return them for a deposit, but this is still not helping the issue at hand.
With a water dispenser, you're able to do more to stop the over pollution of water bottles in landfills.
Choosing the Right Dispenser System for the Job
Purchasing the dispenser should be the easy part, but sometimes, even after you know all of the benefits, you might still struggle with the variety of styles that can be hard to choose from.
There are all-white dispensers that blend with your home surroundings. There are some stainless steel models that give a touch modern class to the office. There are even units that come with dry storage compartments for cups and bottles, which makes dispenser areas in offices and gyms that much more safe without the clutter that setting aside room on a nearby table for plastic cups can cause.
Speak with someone that knows more about water dispensers or read all about water dispensers with our handy Water Dispensers Ebook. It can be in your best interest to choose the right type of dispenser for the needs that you have.
A water dispenser might be exactly what you needed to get the drinking water you want to have - without having to use the tap in your home.
Be able to enjoy the cold or hot water that you'd like any time of the day right from the comfort of your own home, office or other facility when the dispenser is being used.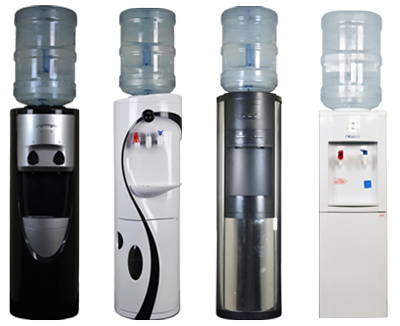 0 comments