Beat the Heat! Your Summer Cooling Guide in an Infographic
There are a lot of home cooling options out there. Before you invest in a heat relief sidekick, make sure it is the right match for where you live and what you need. Here are quicks facts about some of the popular cooling appliances—evaporative (swamp) coolers, AC units, and high-velocity fans—to help you select the perfect cooling system in time for summer.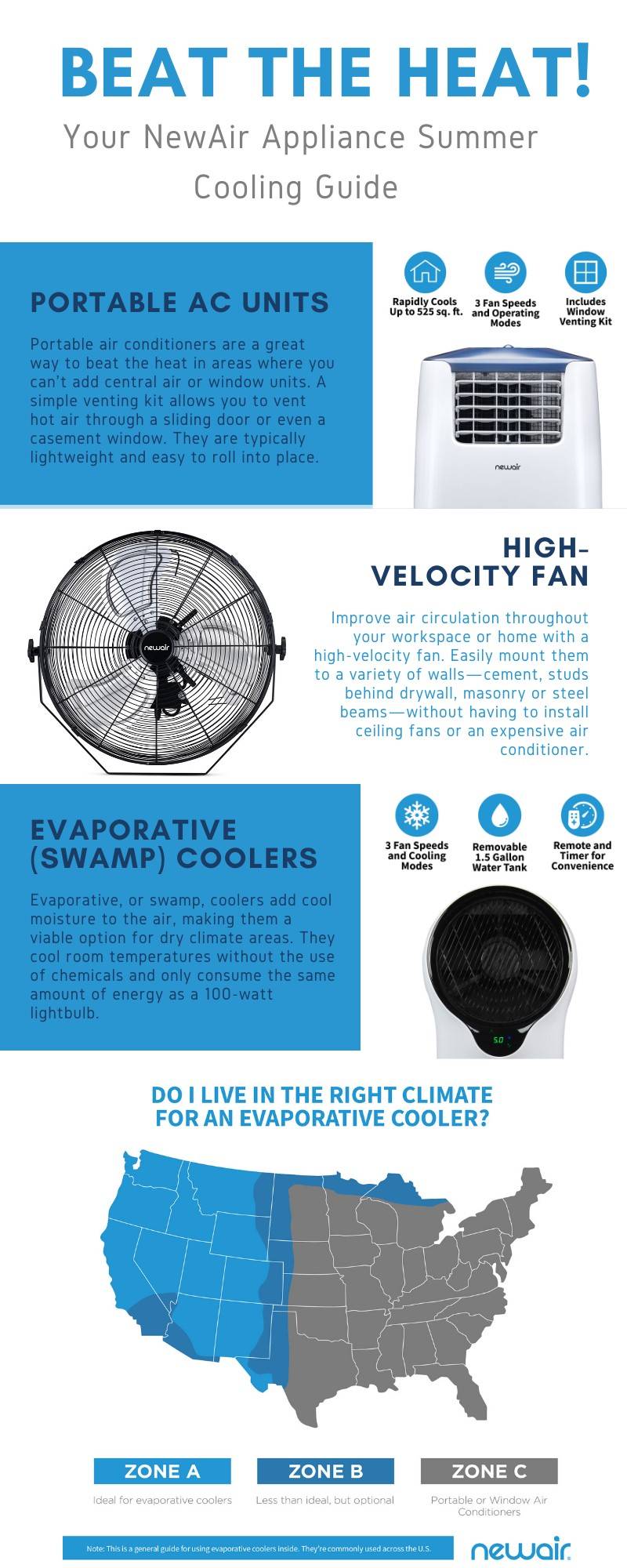 Portable air conditioners are a great way to beat the heat in areas where you can't add central air or window units. A simple venting kit allows you to vent hot air through a sliding door or even a casement window. They are typically lightweight and easy to roll into place.
Improve air circulation throughout your workspace or home with a high-velocity fan. Easily mount them to a variety of walls—cement, studs behind drywall, masonry or steel beams—without having to install ceiling fans or an expensive air conditioner.
Evaporative (Swamp) Coolers
Evaporative, or swamp, coolers add cool moisture to the air, making them a viable option for dry climate areas. They cool room temperatures without the use of chemicals and only consume the same amount of energy as a 100-watt lightbulb.
Stay Calm, Cool, and Collected
When it comes to selecting a cooling appliance, you ultimately need to consider the following: price, geographic location, room size, and functionality.
Most of these appliances offer powerful cooling at a more affordable price than a central cooling system. Plus, if you rent, then installing a central AC system is most likely out of the question. Where you live geographically also has a big impact of which appliance you should buy. Make sure the appliance functionality makes sense for the climate you live in. You'll also want to make sure you have the right space to support these appliances. For example, a portable AC unit, while easy to install, still needs to vent through a window or sliding door.
By the time you finish reviewing this infographic guide, you should be able to identify which cooling appliance is right for you.
0 comments